+ more news

Participation of IOCCP in the 4th ECCWO International Symposium, 4-8 June 2018, Washington DC, USA
IOCCP actively participated in the 4th International Symposium on the Effects of Climate Change on the World Oceans (ECCWO-4), held on June 4-8, 2018, in Washington DC, USA. IOCCP SSG member Veronique Garcon was an invited speaker at Session 7 on "Eastern Boundary upwelling systems: diversity, coupled dynamics and sensitivity to climate change." All the plenary talks can be viewed at: https://meetings.pices.int/publications/video#2018-ECCWO. You might particularly be interested in the talks given by Andreas Oschlies and Dimitri Gutierrez.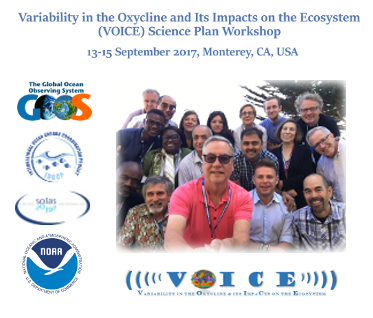 Variability in the Oxycline and Its Impacts on the Ecosystem (VOICE) Science Plan Workshop, 13-15 September 2017, Monterey, CA, USA
We are happy to inform you about the publication of the report of the Variability in the Oxycline and its ImpaCts on the Ecosystem (VOICE) Science Plan Workshop which took place on 13-15 September 2017 in Monterey, CA, USA, and hosted by the Monterey Bay Aquarium Research Institute (MBARI). The workshop was a three-day event, held in conjunction with the Global Ocean Oxygen Network (GO2NE) third annual meeting (11-13 September 2017). The workshop was attended by 22 scientists from around the globe, and was the first opportunity to establish communication and initiate coordination of efforts leading to the implementation of the VOICE project, which is an outcome of the Implementation of Multi-disciplinary Sustained Ocean Observations (IMSOO) workshop in February 2017. The workshop was generously sponsored by GOOS, IOCCP, NOAA and SOLAS, and its organisation was facilitated by the IOCCP Office.
Calendar
| | |
| --- | --- |
|   | IOCCP meetings, IOCCP-related meetings as well as events related to a wider scope in marine biogeochemistry. |